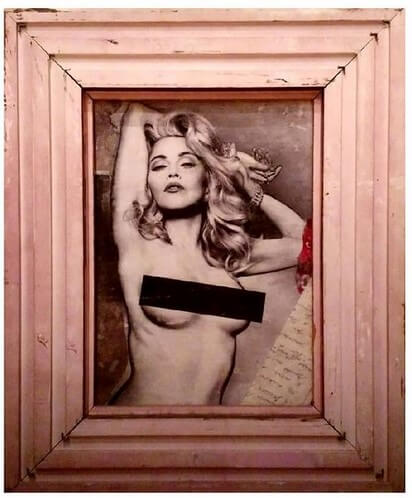 Made in Spain, Noah Antonana
Short interview with Noah Antonana from Viana, Navarra, Spain
Noah tell me something about yourself? – where you from, your educational and professional background etc.
I am a self-taught painter living in Spain. My studies are far from painting or the arts in general, although it is always a field that has deeply attracted me.
What are you working on at the moment?
At this moment I am in the production phase of my work, which consists of a variety of techniques that I am developing.
My creative process is more intuitive than technical. Let's say that I do not have a clear concept  of   what I want to capture on a canvas in the first phase, if not that I am applying layers of color and at a certain moment something catches my attention and I am trying to create something from there           developing what I particularly see in It. Although at the end when watching at my paintings people see different things depending who I am asking, and that makes It more interesting.
What's the agenda behind your work?
There is no agenda in my work, simply creating through experimentation with different materials and techniques pushes me forward.
Is there a specific environment or material that's integral to your work, such as texture, collage, acrylics, ink etc.?
In my creative process I use all kinds of materials as well as supports, acrylics, inks, mediums, markers …, including collage, I always like to experiment with new media.
Which art trends inspire your current work?
I like all kinds of art but visual art, such as painting, is the one that attracts me the most and I don't follow trends, but I look at what catches my eye. I have to admit that the abstract and figurative arts is what attracts me the most right now.
How has your style changed over time?
I don't know if my style changes, but through new techniques or materials new ideas are emerging and let's say that I am not looking for a specific style but rather that each painting has its own personality.
Describe your ideal working environment.
My ideal work environment is a clear morning of light and an empty space along with all kinds of materials at my disposal and a blank canvas.
How your works fit into home or office interior design?
I like to think that my work fits into any environment, whether private or public, as long as the people who can see it enjoy it.
Did you get bolder over time with your work?
Totally, initially my works began through collage and image transfer techniques from my discovery of the work of Robert Rauschenberg. Once through that phase I am always trying new things and techniques with different results.
What's been the highlight in your career so far?
For the moment the culminating moment has been the exhibition in the house of culture of my native town, Viana, a small town in the north of Spain, in Navarra. New technologies have also allowed me to sell works as far away as Indonesia.
Future projects?
My future project is to continue working on the development of my work, focusing on the search for representation through an art gallery that is committed to my work.
You can find more about Noah Antonana her Instagram profile and on Saatchi Art.